In 1995 in his song CHILDHOOD, Michael Jackson asked: Have you seen my Childhood? And our answer is at the same time the exact problem: Yes. The public saw Michael Jackson's childhood. He grew up on stage.
In 1991, Michael Jackson released his DANGEROUS album and on the cover, children who spent their childhood in the entertainment industry end up in hell just as much as they do in Hollywood. And yet on DANGEROUS there is Michael Jackson's guardian angel Shirley Temple watching out for the King of Pop.
Michael Jackson's DANGEROUS album cover 1991, SONY Music Entertainment. Painter of the artwork named "King of Pop" (acrylic on wood 82" x 74") is Mark Ryden. The original of the painting is exhibited in the Paul Kasmin Gallery, 293 Tenth Ave., New York, NY 10001. source
"There were times, let me make that clear, when I'd come home from school and I'd only have time to put my books down and get ready for the studio. Once there, I'd sing until late at night, until it was past my bedtime, really. There was a park across the street from the Motown studio, and I can remember looking at those kids playing games. I'd just stare at them in wonder—I couldn't imagine such freedom, such a carefree life—and wish more than anything that I had that kind of freedom, that I could walk away and be like them. So there were sad moments in my childhood. It's true for any child star. … When you're young and you're working, the world can seem awfully unfair. I wasn't forced to be little Michael the lead singer—I did it and I loved it—but it was hard work. If we were doing an album, for example, we'd go off to the studio after school and I might or might not get a snack. Sometimes there just wasn't time. I'd come home, exhausted, and it'd be eleven or twelve and past time to go to bed. So I very much identify with anyone who worked as a child. I know how they struggled, I know what they sacrificed."

Michael Jackson, MOONWALK. Random House. Kindle-Version.
ENTRARE: Tunnel of Horror. Childhood, stars and Michael Jackson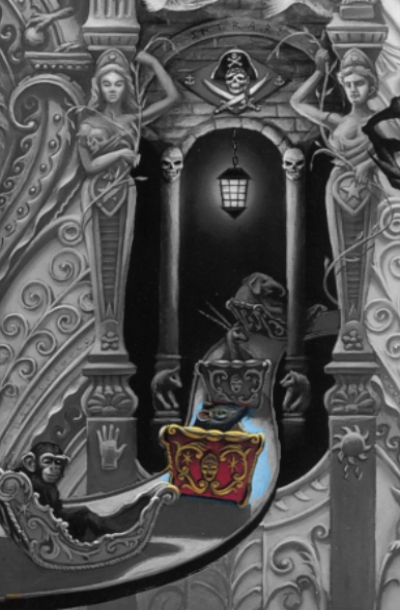 On Michael Jackson's DANGEROUS cover, the gondolas of the ghost train ride with the following cast: Bubbles and Ben. Michael's brothers are not featured. source
Bubbles
Bubbles, a young chimpanzee, child star of his own kind. Achieved world fame at Jackson's side. In 1986, Bubbles even made it into the movies. 1
Ben
Ben, rat and friend from 1972, also a movie star, sung about by Michael, the child star. In a horror movie. 2
In the gondolas at the very front a small antelope, then a baby elephant.
Michael Jackson EXITUS childhood or survival of the fittest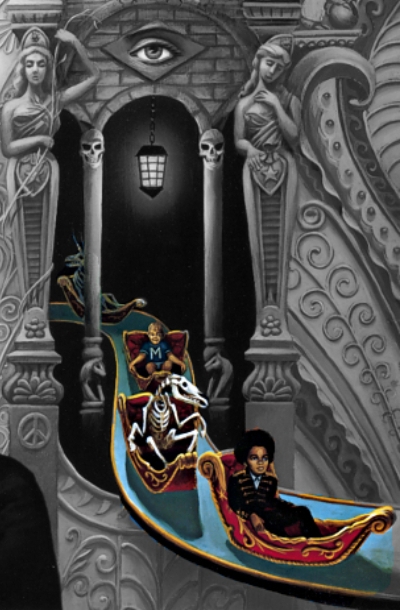 For all passengers, the ride ends in hell. In the EXITUS. So who survived the showbusiness?
Michael Jacksons DANGEROUS Cover 1991: childstar Michael Jackson, one dead, childstar Macauly, one dead … Childhood source
The childhood of little Michael Jackson or "Have you seen my childood?"
It seems, little Michael Jackson, who spent his entire childhood in the industry, remains unharmed. At least on the outside, because there is no smile on his face. But he wears military uniform and leads the procession of gondolas. Was the little boy a fighter? Or is this image symbolic for the child Jackson who had survived in Jackson the man? The man Jackson who so compassionately remembered what it means to spent his entire childhood in an industry?
"Have You Seen My Childhood?", Jackson asked in 1995 3 and in the answer to his question we can find the problem: Yes. His childhood had been seen by everybody, because he had spent it in front of the public on the stage.
Little Michael had prevailed. From antelope and elephant, however, only their bones are left.
Macauly Culkin – We have seen his childhood … home alone
Macauly Culkin is the boy in the gondola on DANGEROUS with the "M" on his shirt. He's one of the few who survived Hollywood.
Macauly was a child star with worldwide fame in the 1990s ("Home Alone"). He also suffered under his overambitious father, like Michael suffered under Joe Jackson. Macauly is remembered by Michael in 2000:
"There is this precious sweet little soul who is a baby, Macaulay Culkin, who is wondering, 'How did I get caught up in all of this? I never asked to be an actor.' He always wanted out."

Michael Jackson über Macauley 4
Decades later, Macauly recounts the physical and emotional abuse of his father, Culkin.
"He was a bad man. He was abusive, physically and mentally. I can show you all my scars if you want to. He was a bad dude."

Macauley Culkin, 2013. 5
Many child stars die young. Jackson commented on that:
"Not a lot of them are left. That's what is scary. Most of them self-destruct."

Michael Jackson, around 2000 6
Culkin had survived and the boy Michael became King.
Shirley Temple and Michael Jackson – Have you seen her childhood ….?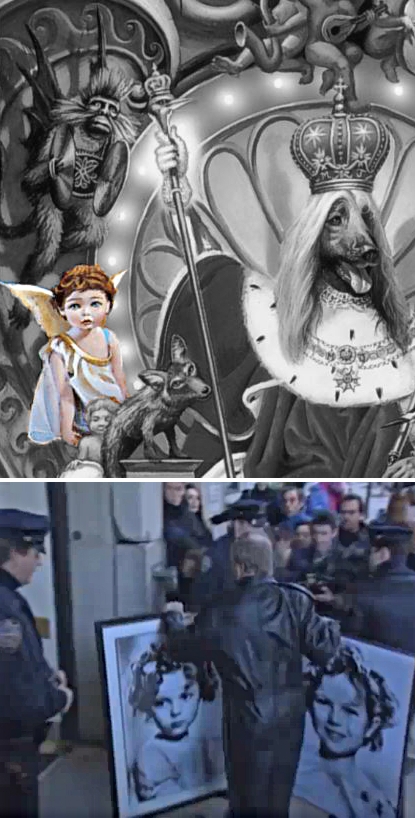 "It's hard to see angels …"

Michael Jackson, 1992 in Angel of Light. 7
On the DANGEROUS album cover from 1991, Michael Jackson devoted a special place to Shirley Temple. She is the angel next to the King of Pop. (Not so hard to see …)
"you've saved my life … I can survive this."

Michael Jackson, around 2000. 8
The sad little angel is sitting next to KING MJ. This angel is Shirley Temple, also a child star with no childhood and one who survived Hollywood. She is close to Michael's side; Shirley Temple, the child, is Jackson's guardian angel. She saved his life, Jackson later personally explains to the adult Temple.
"So many times I have been at the end of my rope and I have felt like throwing in the towel and I just look at your picture and I feel there's hope and I can survive this."

Michael Jackson um 2000 9
a.: source u.: Portraits of Shirley Templewere brought to Michael into the hospital. picture source and report
In 1995, Jackson collapsed on stage under the pressure of an upcoming show to be broadcast worldwide. Jackson had to be hospitalized. Into the hospital his staff brought him portraits of Shirley Temple as a child star. Michael Jackson was obviously at the end of his rope.
But what about the guardian angels?
"It's hard to see angels, although I've stared at their pictures for hours. Some people can see them without pictures, and they tell interesting tales. Guardian angels are all female, for instance, which didn't surprise me once I found out."

Michael Jackson, 1992. 10
Munchkin or Manager Joseph and the Childhood of Michael Jackson
But Michael also has some sort of a demon on his back. The figure, which looks like a "Munchkin" from THE WIZ, focuses on the King with an adamant facial expression. What he does seems deafeningly loud. He sets the tone here. And then this look … Papa Joe Jackson? Manager of the child star? Michael remembers:
"He'd be in the audience and he would make a face like this. He'd go [makes facial gesture] and it would scare the bejesus out of you and you'd think, 'I can't mess up. He'll kill us.' Everybody would clap and he would be like, 'We're going to hit you hard. Don't you mess up.' I'd be like, 'God, I'm in trouble after the show.'"

Michael Jackson around. 200011
P. T. Barnum, the Manager on DANGEROUS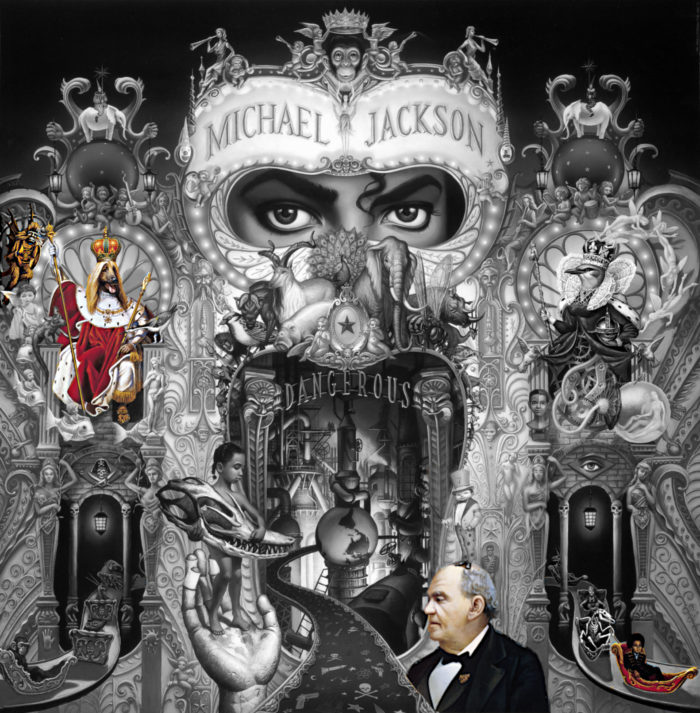 Fortunately, on DANGEROUS Michael's guardian angel is close by. Barnum, symbol of countless, profit-oriented managers in Michael's life, seems to be waiting already.
"Have you seen my childhood …?"

Michael Jackson
Perhaps Michael Jackson allowed contact with other child stars such as Maccauly Culkin, Corey Feldman or Emmanuel Lewis not to share suffering, but to protect them from the dangers in the entertainment industry and to give them strength? The strength that Shirley Temple herself had given him.

Related articles:
Quellen