Evan Chandler war ein drehbuchschreibender Zahnarzt, der von Hollywood träumte. Da Michael Jackson 1993 die Forderungen des Evan Chandler nach vier Drehbüchern in Millionenhöhe nicht erfüllte, ließ Chandler medienwirksam in der Presse "Michael Jackson Kindesmissbrauchs" verkünden.
"Ich bin wirklich gut im Geschichtenerfinden."

Evan Chandler, 1993. 1
"Ich werde auf keinen Fall verlieren. Das habe ich von vorne bis hinten gecheckt."

Evan Chandler, 1993. 2
Die Hollywood-Träume des Evan Chandler: "mit einem ausgeprägten Sinn für Mode"
Evan Chandler ist der Ex-Mann der June Chandler und der Vater des damaligen Jungen Jordan Chandler. 1944 als Evan Robert Scharmatz jüdischer Abstammung geboren, beschrieb ihn sein Bruder als "gesegnet mit dem Aussehen eines Filmschauspielers" und ausgestattet mit "einem ausgeprägten Sinn für Mode". 3
Eigentlich war Evan Zahnarzt, doch sein beruflicher Werdegang wurde begleitet von Schadenersatzklagen und Suspendierungen durch die Ärztekammer. 1978 behandelte Evan Chandler in einer einzigen Sitzung allein 16 Zähne einer Patientin. Chandlers Arbeitsweise führte zur Suspendierung seiner Lizenz, zu 5 Jahren Bewährung und Zahlung von Schadenersatz i.h.v. $243 000. 1992 folgte eine weitere Patientenklage. Doch da Chandler sowieso von einer Karriere als Drehbuchschreiber träumte, "von schönen Autos, von schönen Häusern, von schöner Kleidung", machte er sich mit Ehefrau June an der Seite auf den Weg nach Hollywood. 4
Die Drogen des Evan Chandler
Hollywood erfüllte Chandlers Drehbuch-Traum nicht, und so zog er auch dort weiterhin Zähne. "Zahnarzt der Stars" nannte er sich. Der Schauspielerin Carrie Fisher, bekantn als Prinzessin Leia aus dem Epos 'Krieg der Sterne', verewigte Evan Chandler in ihrer Biografie. Für eine Handvoll Dollar hatte Evan Chandler die Schauspielerin durch den Anästhesisten Mark Torbiner illegal mit Drogen versorgen lassen:
"Und da ich einer dieser Leute war, die unnötige Zahnbehandlung nur des Morphines wegen hatte, war [Chandler] einer dieser Leute, die solch einen Willkommen-Service arrangieren konnten."

Carrie Fisher, 5
War Evan Chandler, der "Zahnarzt der Stars" auch Drogen-Dealer der Stars?
Die Gewalt des Evan Chandler
Als gewalttätig wird Evan beschrieben, nicht nur der Mutter, Schwiegermutter und zweiten schwangeren Ehefrau gegenüber. 6
Bild: Evan Chandler 1993 im Umgang mit einem Fotografen. (Bild "The Mirror")
Auch den damaligen Ehemann seiner Ex-Frau June Chandler namens David Schwartz verprügelte Evan mal in der Garagenauffahrt, mal im Büro seines Anwalts. 7 Anlass der letztgenannten Keilerei waren Anwaltsgebühren. 1993 vertraute Evans dreizehnjähriger Sohn Jordan Chandler einem Freund an, sein Vater sei "furchtbar zornig" und schmeißt auch schon mal "brüllend mit Sachen um sich."
"Jordy hatte erzählt, dass Evan furchtbar jähzornig war, dass er, wenn er wütend war, schrie und mit irgendwelchen Sachen im Haus um sich schlug."

Frank Cascio. 8
2006 verfügte ein Richter, Evan Chandler habe dem – mittlerweile erwachsenen – Sohn Jordan fernzubleiben, den er mit Hantel und Pfefferspray angegriffen hatte. 9
Evan Chandler und "Männer in Strumpfhosen"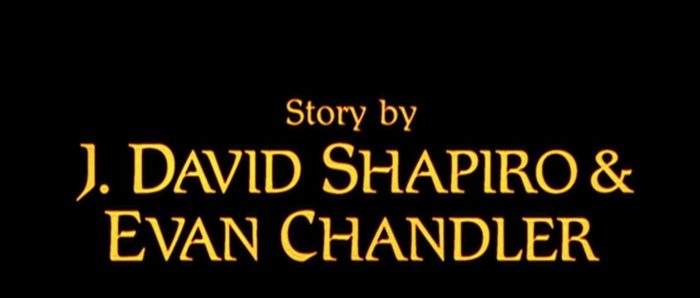 Evan Chandler wollte mit Drehbüchern sein Geld verdienen. An einem hatte er mitgearbeitet, das es August 1993 unter dem Namen Mel Brooks auf die Leinwand gebracht hatte: "Robin Hood: Männer in Strumpfhosen".
"Ziemlich dumm, wirklich"

Evan Chandler. 10
"Männer in Strumpfhosen" Geschichte von Evan Chandler Quelle
Die vielen Schulden des Evan Chandler
1993 war Evan Chandler von seiner ersten Frau June seit acht Jahren geschieden und schuldete ihr $68 000 Kindesunterhalt. Dem gemeinsamen Sohn Jordan schuldete er Zeit, Aufmerksamkeit und einen lang versprochenen Computer. 11
Dann traten die Chandlers in das Leben des Michael Jackson und er schenkte June und ihren Kindern Zeit, Geld, Aufmerksamkeit und dem Sohn einen Computer. Und Evan Chandler richtete seine ganze Aufmerksamkeit auf den Entertainer Michael Jackson. Der Dentist hatte zufällig gerade ein Drehbuch in Arbeit.
"[Jordan] erzählte mir, sein Vater […] war äußerst eifersüchtig auf Michael."

Frank Cascio. 12
Nicht mehr lange sollte es dauern, bis der Zahnarzt sich die Zukunft mit dem filmbegeisterten Jackson und gemeinsamen Drehbüchern erträumte. Von einem Einzug in Evans Haus (von Michael Jackson) soll bald die Rede gewesen sein, aber auch von der Finanzierung eines Anbaus an Evans Haus (seitens Michael Jackson), schließlich vom Bau eines neuen Hauses für Evan (von Michael Jackson) und vor allen Dingen: ein Job für Evan Chandler in einer Filmproduktionsfirma (des Michael Jackson). 13 Man sagt,
"(Evan Chandler) musste der Beste sein, und er hörte nie auf, bis er die Spitze erreichte."

Evans Bruder Raymond 2004, der für Evan die Geschichte in einem Buch verkaufte. 14
Man weiß auch, dass die Spitze Michael Jackson ist. Am Anfang aber stand Evans Wunsch, der King of Pop möge 1993 ein Wochenende in Chandler Haus verbringen.
Evan Chandler: Dann sitzt "dieses Genie (Michael Jackson) in meinem Haus, meinte ich hätte Talent …"
"Da war er, dieses Genie, sitzt einfach in meinem Haus. Michael und ich sitzen auf der Couch, reden über den Peter-Pan-Film und wie Michael das Musical wieder zurückbringen wird und dass er meinte, ich hätte eine Menge Talent. Er liebte meine Ideen und alles, und wie wir gemeinsam schreiben würden und all das."

Evan Chandler. 15
Michael Jackson: "Oh god, he's taking Demerol …"
Jackson brachte ins Haus des Zahnarztes, der illegal Morphin arrangierte, auch seine "quälenden Schmerzen" resultierend aus seiner Kopfhaut-Operation von März 1993 mit.
"Der Sänger ging im Kreis, hielt seinen Kopf."

Raymond Chandler, der mit dem Verkauf dieser Geschichte 2004 Geld verdiente. 16
Die Mittel des Mark Torbiner kamen ins Spiel, des Anästhesisten auf Rädern, mit dem Autokennzeichen "SLPYDOC". Der Narkosearzt, den die Stars mieteten, um Morphine zu bekommen. 17, 18 Michael Jackson soll er Demerol beschafft haben, das Chandler dem Star ins Gesäß spritzte. 19
Michael Jackson verlor durch die Spritze das Bewusstsein und sang spätestens 1997 ein Lied über Morphine, Demerol und über Rivalitäten und Abhängigkeiten:
"Oh god, he's taking Demerol […] She never cook for me/She never bump, baby/I've gotten what, baby?/ You're just a rival! …"

Michael Jackson, 1997 in MORPHINE 20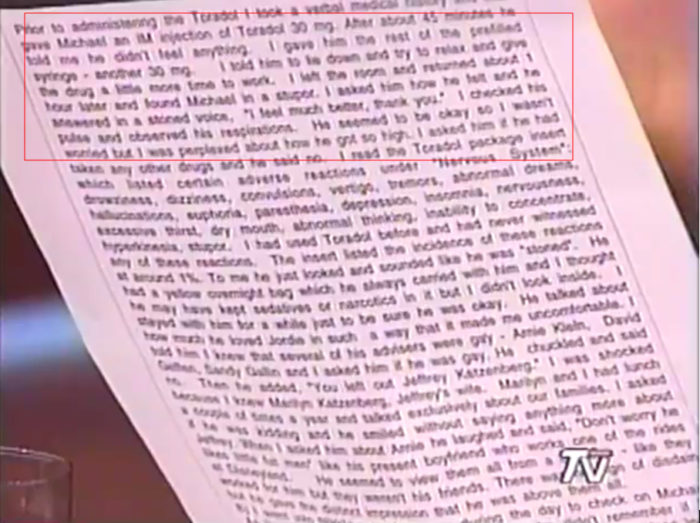 "Reporter" Victor Gutierrez zeigte 1995/1996 im TV zur Promotion seines eigenen Buches die Abschrift einen Text. Aufgrund der sehr detallierten Beschreibung der Medikamentengabe von Evan Chandler an Michael Jackson, stammt diese wohl Evan Chandler selbst. Chandler war Mediziner, Gutierrez nicht.
"I told him to lie down and try to relax and give the drug a little more time to work…"
Diese Zeile erinnert stark an Michael Jacksons Verarbeitung in seinem Song MORPHINE von 1997. Quelle hier auf YouTube.
"Relax/This won't hurt you/Before I put it in/Close your eyes and count to ten….Close your eyes and drift away .."

Michael Jackson in MORPHINE, 1997.
Zieht Evan Chandler aus dem überdosierten Michael Jackson Vorteile?
Die Überdosierung Jacksons durch den Zahnarzt Chandler soll nach Evans Schilderung nicht absichtlich passiert sein. Aber während der Bewusstlosigkeit des Stars bot sich Chandler die einmalige Gelegenheit, ausgiebig die Anatomie Jacksons zu studieren, dessen Hautbild sich seit Jahren durch die Krankheit Vitiligo verändert hatte. Konnte Chandler womöglich zu diesem Zeitpunkt schon gewusst haben, dass Kenntnisse über die detaillierte körperliche Beschaffenheit von Michael Jackson bald zur Basis für 30 Millionen Dollar Verhandlungen wurden? 21, 22, 23, 24 Als Michael Jackson Stunden nach Chandlers Morphine-Spritze wieder langsam zu sich kam, beschreibt Evans Bruder Raymond Chandler, dass Evan aus dem durch Medikamente "ungehemmten" Jackson "Vorteil zieht".
"Evan entschied, Vorteil aus Michaels noch immer ungehemmtem, aber einigermaßen vernünftigen Zustand zu ziehen: "He, Mike, ich frage mich … Ich meine, […] ich weiß einige deiner Mitarbeiter sind schwul, und ich frage mich, ob du auch schwul bist.""Du wärest überrascht über einige Leute in dieser Stadt," murmelte Michael, als er Namen einiger prominenter Hollywoodfiguren herunterleierte, die sich noch immer verheimlichten.[…] [Evan] streichelte Michaels Haar und versicherte ihm. "Es ist mir egal, ob du schwul bist, Mike. Ich wollte dich nur wissen lassen, dass du es mir sagen kannst, wenn du es bist." "Mmm, mh," lallte Michael. "Ich nicht.""

Aus dem Buch der Brüder Raymond und Evan Chandler, die die Story 2004 verkauften. 25
Evan Chandler wird gewusst haben, wofür er Informationen wie diese, zu seinem "Vorteil" nutzen wollte.
"They really want to use me …"

Michael Jackson in THIS TIME AROUND auch aus dem Jahr 1995. 26
Die Angst des Evan Chandler, als sich Michael Jackson von ihm zurückzieht. Erste Drohungen
Sobald Michael Jackson wieder bei klarem Verstand war, nahm er die Gastfreundschaft des Evan Chandler nie wieder in Anspruch. Der King of Pop entzog Chandler aber auch alle weiteren Aufmerksamkeiten und so gingen des Dentisten Drehbuchpläne ebenso dahin, wie sein Traum von Hollywood, vom Jackson-Haus und vom Job in der Firma des Michael Jackson.
"Es gab keinen Grund, warum er mich nicht mehr anrief. Er hätte mich anrufen können.[…] ich sprach mit Michael und ich erzählte ihm ganz genau, was ich von dieser ganzen Beziehung will, was ich will […]."

Evan Chandler. 27, 28
Michael Jackson, Chandlers Ex-Frau June mit Tochter Lily und Sohn Jordan blieben jetzt unter sich. Aber Chandlers Brude Raymond beschreibt Evan, was Beziehungen jeglicher Art betrifft, als "ein Mann, der sich weigert, Schluss zu machen".
"Unglücklicherweise für Evan, hatten vor allem in seinen Teenagerjahren die meisten dieser jungen Frauen die Kunst des Verlassens noch nicht erlernt – eine entmutigende Aufgabe im besten Fall, und fast unmöglich mit einem Mann, der sich weigerte, aufzuhören. Anstatt also einen klaren Schlussstrich zu ziehen, beendeten Evans Freundinnen die Beziehung, indem sie eine neue anfingen und ihm die Möglichkeit gaben, diese Tatsache für sich selbst zu entdecken."

Raymond Chandler. 29
"Ich erzählte June sogar, wie sehr ich verletzt bin. Ich sagte – "Ich bin verletzt, June. Ich weine jeden Tag. Ich sterbe" […] Weißt du, was sie zu mir gesagt hat? […] "Nun, das ist wirklich zu schade. Fuck that.[…]"

Evan Chandler. 30
Ein Freund Michael Jacksons erklärte später dazu:
"Michael erzählte mir, Jordy's Vater wollte, dass Michael in einen Film investiere, den er hatte machen wollen. Ursprünglich mochte Michael die Idee, während seine Berater dagegen waren. Sie lehnten ihn [Evan Chandler] ziemlich rücksichtslos ab, und Michael, der von Auseinandersetzungen nichts hielt, lies ihn ebenfalls sausen. Michael war überzeugt davon, dass das, mehr als irgendetwas anderes Evan Chandler aufgebracht hatte. […]"

Frank Cascio, 31
Während uns Raymond Chandler über seinen Bruder aufklärt:
"Setzt er sich einmal etwas in den Kopf – und er setzt sich immer etwas in den Kopf – kann ihn nichts davon abbringen, sein Ziel zu erreichen. Er wird zielstrebig bis zum Punkt der Besessenheit."

Raymond Chandler. 32
Die "Karriereinteressen" des Evan Chandler und "Einfluss der Medienaufmerksamkeit"
Evan Chandler wollte "schöne Kleider, teure Autos, ein schönes Haus". Evan hatte es sich in den Kopf gesetzt, in Hollywood Karriere zu machen und Evan Chandler wollte Michael Jackson. Evan Chandlers Chancen auf Jackson sanken aber, als der ihm die Aufmerksamkeit entzog und sich 1993 auf seine DANGEROUS-Welttournee vorbereitete.
"Das diesem Mann am Vorabend seiner Welttournee anzutun, finde ich einfach nur verachtenswert", sagte Pellicano. "Sie hatten die Gelegenheit…. Sie wussten, dass er [Michael Jackson] gehen würde und es war ein letzter Versuch, sie haben einen letzten Versuch mit mir unternommen, um das Geld zu bekommen und als sie das Geld nicht bekamen, haben sie getan, was sie getan haben.."

Anthony Pellicano. 33
Evan Chandler wollte Michael Jacksons Zuwendung. Und damit Evan bekam, was Evan wollte, legte er sein Begehren in die Hände eines Full-Service-Entertainment Anwalts seiner Wahl.
Es darf spekuliert werden, ob Evan den Entertainment-Anwalt tatsächlich erst zu diesem Zeitpunkt oder vielleicht schon einschaltete, bevor er den größten Entertainer aller Zeiten in sein Wohnzimmer gebeten, betäubt, ausgefragt und studiert hatte. Für die Reputation dieses Anwalts wählte Evan Chandler folgende Worte:
"Ich habe den übelsten Hurensohn genommen, den ich finden konnte."

Evan Chandler über seinen Anwalt, der Forderungen an Michael Jackson stellen sollte. 34, 35
Des "übelsten Hurensohns" Spezialgebiet waren Geschäfte aller Art in der Unterhaltungsbranche. Mitte 1993 starteten die Medien eine Hexenjagd auf Jackson. Der King of Pop hatte dem von Hollywood träumenden Evan Chandler alle Aussichten auf Zuwendungen entzogen und Evan "richtete ein Massaker an", weil er nicht bekam, was er wollte. Rechtsanwalt Rothman bereite seinen Mandanten folgendes Angebot:
"Sicherstellung des bestmöglichen Weges zur Lösung strittiger Probleme in Bezug auf Karriereinteressen unserer Klienten und den Einfluss der Medienaufmerksamkeit."

Werbung auf Webseite von Evan Chandlers Anwalt Barry Rothman. 36
Im Sommer 1993 ließ Evan Chandler unter Anleitung des Entertainment Anwalts Rothman gegen den King of Pop die Anschuldigung "Kindesmissbrauch" verkünden. Ungefähr zur selben Zeit pflegte Evan Chandler Kontakte zu Victor Gutierrez, einem Reporter, der für seine pädophilen Tendenzen bekannt ist.
Verwandte Beiträge:
Quellen