Im Prozess 2005 gegen Michael Jackson lautete das Urteil der 12-köpfigen Jury: NICHT SCHULDIG.
"Der Angeklagte ist nicht schuldig, aber jemand in diesem Gerichtssaal ist es"
Das Zitat stammt von Rechtsanwalt Aticcus Finch 1962 in "Wer die Nachtigall stört" 1 im Lieblingsfilm des Michael Jackson.
Der von D.A. Thomas W. Sneddon und seiner Assistenz Ron Zonen angeklagte Michael Joe Jackson wurde am 13.06.2005 von einer 12-köpfigen von allen 14 konstruierten Anklagepunkten freigesprochen. Michael Jackson war der ihm und der Öffentlichkeit vorgeworfenen Anklage von 2003 nicht schuldig.
Michael Jackson, nicht schuldig, weil …
Nicht schuldig, weil Janet, Gavin, Star und Davellin Arvizo behaupteten, bei ihren zahlreichen Besuchen in Neverland wären sie jedes Mal gefangen gehalten worden. Gefangen in einem Gästehaus, in dem Hollywood-Diva Elizabeth Taylor oder Marlon Brando residiert hatten, wenn sie die Gastfreundschaft des Michael Jackson genossen. Dazu Verteidiger Tom Mesereau im Verhör des Gavin Arvizo:
"Du fuhrst gelegentlich mit dem Rolls Royce, richtig?"
"Nein, ich reiste nur mit dem Rolls Royce, als ich mit Jesus aus Neverland entkam."
"Als du entkamst?"
"Ja."
"Und wie lange, nachdem du entkommen warst, bist du dorthin zurückgekehrt?"
"Ich glaube einige Tage später […]"
"Als du entkamst, wohin brachte Jesus dich?"
"Er brachte mich zum Haus meiner Großmutter."
"Und dann zwei Tage später kehrtest du zurück[…]?Du kehrtest zurück, und dann entkamst du ein zweites Mal, richtig?"
"Ich denke schon. Wie auch immer."
"Und dann kehrtest du zurück und entkamst ein drittes Mal, richtig?" "Nein."
"Nun, es gab drei Entkommen, nicht wahr?"
"Ich weiß nicht."
"Hast du jemals mit Mr. Sneddon darüber gesprochen, wie viele Male deine Leute freiwillig zurückkehrten und dann von Neverland entkamen?"
Michael Jackson, nicht schuldig, weil …
Nicht schuldig, weil Bezirksstaatsanwalt Sneddon anklagte, Michael Jackson habe die Arvizos in Geiselhaft gehalten, während jene Arvizos auf Jacksons Kosten Shopping-Events veranstalteten: Für $1.319 hatten sie in angeblicher Geiselhaft Unterwäsche und Jeanshosen gekauft. In Sneddons angeblicher Geiselhaft ging Janet Arvizo mit ihren drei jugendlichen Kindern ins Kino und dinierte im Restaurant und besuchte einen Schönheitssalon.
"Was auch immer ihr lieblichen Frauen in Schönheitssalons macht."
D.A. Sneddon vor Gericht zu diesem Thema. 4
Janet Arvizo ließ sich im Schönheitssalon während der von den Staatsanwälten Sneddon und Zonen formulierten angeblichen Geiselhaft auf Jacksons Kosten die Haare vom Körper entfernen und Sohn Gavin die Zahnspange aus dem Mund nehmen. Janet Arvizo kaufte Büstenhalter, Bikinis, Socken, Deo und Kaugummi. Sie gönnte sich auf Jacksons Kosten eine Aromatherapie, eine Maniküre, eine Pediküre und dem Sohn einen Haarschnitt. 5
Unter Haftbedingungen wie diesen, vergaß Janet Arvizo, die Polizei zu informieren, nicht aber, dass ihre Rechnungen über $3,312.05 auf Kosten des Michael Jackson gingen.
Ein Journalist stellte Jacksons Leute später eine angemessene Frage: 6
"Seid ihr sicher, dass nicht die Arvizos euch gekidnappt hatten?"
Michael Jackson, nicht schuldig, weil …
Nicht schuldig, weil Janet Arvizo behauptete, von Michael Jackson in ihrer angeblichen Gefangenschaft in Neverland nur eine einzige Mahlzeit täglich erhalten zu haben, während dem Gericht und der 12-köpfigen Jury die Kosten für die Restaurantbesuche der vierköpfigen Arvizo Familie auf Jacksons Rechnung bekannt gewesen waren.
Michael Jackson, nicht schuldig, weil ..
Nicht schuldig, weil Janet Arvizos beteuerte, in ihrer Haft zwar nie die Polizei informiert, aber Verwandten, Verlobten und gar den eigenen Anwalt durch "Codeworte" und "Hinweise" auf ihre angebliche Gefangenschaft in Neverland informiert haben wollte, als der King of Pop angeblich beabsichtigte, sie zu ermorden. 7
Michael Jackson, nicht schuldig, weil …
Nicht schuldig, weil von behaupteter Gefangenschaft der Arvizos auf Neverland, Jacksons Angestellte – 40 bis 50 an der Zahl – Zeuge der Haft gewesen sein müssen. Um eine Erklärung auch für diese Unlogik in der Anklage zu finden, konstruierte die Staatsanwaltschaft deshalb eine Verschwörung aller Angestellten Neverlands.
Michael Jackson, nicht schuldig, weil ..
Nicht schuldig, weil Gavin Arvizo leidenschaftlich erklärte, er mochte Neverland und wollte dort einfach nicht weg. Nicht schuldig, weil die Arvizos "sich benahmen, als gehöre ihnen der Ort", während Staatsanwalt Sneddon behauptete, Jackson habe die Arvizo dort in Gefangenschaft gehalten. Dazu Verteidiger Tom Mesereau zu Gavin Arvizo: 8
"Du erzählst also dieser Jury, dass du nach ein paar Fluchten und der darauffolgenden Rückkehr nach diesen Fluchten, behauptest, du wärest unsittlich berührt worden? Das ist es, was du erzählst, richtig?"
Mr. Sneddon:
"Einspruch als argumentativ, Euer Ehren."
Das Gericht:
"Abgewiesen. Du mögest antworten."
Gavin Arvizo:
"Ja."
Michael Jackson, nicht schuldig, weil …
Nicht schuldig, weil während der von der Staatsanwaltschaft behaupteten Entführung der Arvizos durch Michael Jackson nach Brasilien, Janet Arvizo während der angeblichen Haft einer Bekannten glücklich erregt mitteilen konnte: 9
"Michael Jackson wird uns alle zum Karneval nach Brasilien einladen".
Michael Jackson, nicht schuldig, weil ..
Nicht schuldig, weil es gegen jede juristische Regel verstößt, dass die jugendlichen Geschwister Davellin, Star und Gavin Arvizo zur Zeit des Prozesses ohne ihre Mutter Janet im Haus des Hauptermittlers Sergeant Robel wohnten. Diane Dimond, Freundin des Ron Zonen, versucht – erfolglos – diesen Umstand der Öffentlichkeit zu erklären: 10
"Um ihre Gedanken frei zu haben, für die Vorbereitungen ihrer Zeugenaussagen", "um sie zu ermutigen, die Wahrheit zu sagen."
Doch welche Wahrheit war da zu ermutigen, wenn die Jury einstimmig nach dem Prozess urteilte, die Kinder hätten gelogen?
Dazu einen Rückblick auf Sergeant Robel, der schon 2003 auf Gavin Arvizo Einfluss genommen hatte: 12
"Er ist die böse Person, nicht du. Du, deine Mutter, deine Schwester, dein Bruder … ihr seid die guten Leute … Wir werden alles versuchen, damit dieser Fall funktioniert."
Gleich mehrere Staatsanwälte wollen ihren "Prozess des Jahrhunderts" nicht verlieren und bereiten Kinder auf ihre Aussage vor. Der Ankläger, auf dessen Aussage sie ihren Fall aufbauen, lebt Monate unter Bevormundung und Einflussnahme im Haus eines Vertreters der Anklage. 13 Derart intensive Zeugenbetreuung ist fehl am Platz. Und vor Gericht ist Gavin Arvizo bemüht, seinen Einzug in Sergeant Robels Haus zu verschweigen. 14, 15, 16
Die Staatsanwaltschaft hielt es offensichtlich für angebracht, Mutter Janet von ihren Kindern zu trennen. Ironischerweise agiert die Staatsanwaltschaft exakt so, wie sie Jackson unter Punkt 9 ihrer Anklage beschuldigt: Jacksons Mitarbeiter hätten im Februar 2003 Janet Arvizo erklärt, sie könne (und solle)Neverland verlassen. Ihre Kinder aber sollten angeblich bleiben. Das ureigene Verhalten der Staatsanwaltschaft also werfen sie dem Angeklagten in ihrer eigenen Anklage vor.
Dazu Staatsanwalt Zonen 2010 über Janet Arvizo: 17
"Sie war unkontrollierbar. Sie war offengesagt, unstabil. Sie war eine Person, die zu jeder beliebigen Zeit alles Mögliche sagen oder machen konnte. Sie war eine sehr schwierige Person, die für jeden schwierig war zu kontrollieren. Wir hatten große Schwierigkeiten während des Prozesses mit ihr …"
Der Fokus der Staatsanwalt auf die Kontrolle und Manipulation der Janet Arvizo war größer, als sie Jackson in der eigenen Anklage vorwarfen.
Michael Jackson, nicht schuldig, weil ..
Nicht schuldig, weil Staatsanwalt Tom Sneddon 2003 Janet Arvizo persönlich auf einem einsamen Parkplatz in Los Angeles aufgesucht hatte. Der Staatsanwalt traf sich mit Arvizo nicht in, sondern hinter einem bundesstaatlichen Gebäude. Ohne zusätzliche Beamte. Das war ein mehr als bedenkliches Verhalten. 18
Michael Jackson, nicht schuldig, weil …
Nicht schuldig, weil Gavin Arvizo seine Fingerabdrücke auf einem angeblichen Beweisstück der Staatsanwälte erst im März 2004 während seiner gerichtlichen Vernehmung hinterlassen hatte. Auf einem Erotikmagazin, das erst im August 2003 veröffentlicht und im November 2003, während einer Razzia in Neverland beschlagnahmt worden war. Seit März 2003 aber hatten die Arvizos keinen Zugang mehr nach Neverland. Und doch hatte während seiner Vernehmung vor der Grand Jury im März 2004 der Jugendliche Arvizo Jackson beschuldigt, ihm exakt jenes Heft in Neverland gezeigt zu haben. Arvizo soll im Zeugenstand von der Staatsanwaltschaft das Magazin in die Hand gegeben worden sein. Arvizo trug keine Handschuhe. Forensische Untersuchungen auf Fingerabdrücke auf bewusstem Magazin sollen dann auch tatsächlich erst nach März 2004 erfolgt sein. 19, 20, 21, 22
Michael Jackson, nicht schuldig, weil ..
Nicht schuldig, weil Bezirksstaatsanwalt Tom Sneddon persönlich das Büro eines Privatermittlers des Michael Jacksons fotografiert hatte. Der D.A. war sozusagen damit unterwegs in geheimer Mission. Allerdings verstößt es auch in den USA gegen das Gesetz, wenn ein Staatsanwalt sich über solche Handlungen zum Zeugen des Verfahrens macht. 23
Michael Jackson, nicht schuldig, weil …
Nicht schuldig, weil das Jugendamt nach Ausstrahlung der Sendung "Living with Michael Jackson" auf Druck der Öffentlichkeit ermittelte, Gespräche mit der ganzen Familie führte und jeden Verdacht etwaiger unangemessener Handlungen des Jackson dem Jugendlichen Gavin gegenüber für unbegründet entschied. Und nur Tom Sneddon mit Ron Zonen anderer Meinung war. 24
Nicht schuldig, weil Janet Arvizo ihren Sohn Gavin auf der Straße zu einem Prominenten geschickt hatte:
"Sag ihm, du bist das Kind in dem Michael Jackson Video."
Michael Jackson, nicht schuldig, weil …
Nicht schuldig, weil Evan Chandlers Anwalt von 1993/1994 namens Larry Feldman dem US-Talkmaster Larry King 2004 erzählt haben soll, seine Mandantin Janet Arvizo fabriziere Anschuldigungen, sei aufs Geld aus und außerdem sei sie "durchgedreht". 25 King hatte sich als Zeuge zur Verfügung gestellt. King wurde von der Staatsanwaltschaft abgelehnt.
Michael Jackson, nicht schuldig, weil ..
Nicht schuldig, weil Staatsanwalt Tom Sneddon deutlich gemacht hatte, wie schwach er seinen eigenen Fall beurteilte und deshalb nachträglich Michael Jackson der "Verschwörung" anklagte. "Verschwörung" gilt als der Staatsanwaltschaft "liebstes Werkzeug". Überzeugte nämlich der D.A. niemanden im Gericht vom Missbrauch Jacksons, so wollte er wenigstens dessen Verurteilung wegen Verschwörung. Für die Planung eines Verbrechens. 26
"Sie benutzten diese Anschuldigungen, um Jackson in den Dreck ziehen."
Mit der Verschwörungsanklage war es den Arvizos erlaubt, im Gericht zu behaupten "xy hat dieses und jenes gesagt", was sonst ausgeschlossen war. 27, 28 Um Jackson zu isolieren, seinen engsten Kreis von Mitarbeitern und Freunden von der Verteidigung auszuschließen, warf die Staatsanwaltschaft Anklagen gegen Jacksons Leute unter Vorbehalt ins Feld. Jacksons Fürsprecher waren mit der Androhung dieser "Verschwörung" mundtot gemacht worden.
Die 12-köpfige Jury sprach Michael Jackson am 13.06.2005 auch vom "liebesten Kind der Staatsanwaltschaft", dem Vorwurf der Verschwörung frei.
Michael Jackson, nicht schuldig, weil …
Nicht schuldig, weil die Staatsanwälte Sneddon und Zonen sich zu Weihnachten 2003 eine Anklage gebastelt hatten. Sollten doch in ihrem ersten Anklage-Konstrukt sogar beide Brüder Arvizo "unsittlich berührt" worden sein, entschied sich die Staatsanwaltschaft später, es wäre dann doch nur einer der Brüder gewesen. Zonen und Sneddon bastelten weiter und klagten erst sieben Taten an, dann klagten sie aber nur fünf Taten an. 29 Manchmal sollen im Konstrukt der Staatsanwälte Schlaftabletten eine Rolle gespielt haben, dann setzten sie Alkohol in ihren Schriftsatz. Einmal sollte gar der Star-Augenzeuge die in Frage kommende Tat auf einem Stuhl sitzend verfolgt haben. Aber auch diese Variante ließen Sneddon und seine Leute für ihre Anklage im Namen des Volkes fallen.
Michael Jackson nicht schuldig, weil …
Jackson war nicht schuldig, weil Janet Arvizo erst dann der Polizei gegenüber sexuellen Missbrauch behauptete, nachdem sie sich mit Anwalt Larry Feldman getroffen hatte, der 1994 gemeinsam mit Evan Chandler Millionen Dollar für sich und Evan und June und Jordan Chandler unter Einbeziehung der Medien erwirtschaftet hatte. 30
Michael Jackson nicht schuldig, weil …
Jackson nicht schuldig, weil das Opfer der Staatsanwälte Sneddon, Zonen und Auchincloss, namens Gavin, auf Befragen nicht mehr wusste, wann genau er in Sachen Jackson gelogen oder wann er die Wahrheit gesagt haben wollte. 31
Michael Jackson nicht schuldig, weil …
Jackson war nicht schuldig, weil Gavin Arvizo in seiner Aussage vor Gericht mit seinen Anschuldigungen so unbeschwert umging, dass die Jury den Eindruck hatte, 32
"für ihn war das alles nichts Besonderes, einfach nur ein weiterer Tag im Gerichtssaal".
Nicht schuldig, weil …
Jackson war nicht schuldig, weil niemand in der Jury den Anschuldigungen der Arvizos glaubte. Weil
"ziemlich offensichtlich war, dass kein Missbrauch passiert war …"
Paulina Coccoz, Jurymitglied im Prozess gegen Michael Jackson. 33
Nicht schuldig, weil ..
Jackson war nicht schuldig, weil nach Janet Arvizos Behauptung im Zeugenstand, Michael Jackson hätte sie und ihre Kinder im Heißluftballon 34 verschwinden lassen wollen, der 35
"Gerichtssaal aufheulte. "Richter Melville knallte seinen Hammer. Das war die Krönung einer verheerenden Aussage … Jedermann wusste, dass die Jury Sneddons Anklage nicht abkaufen würde. Jedermann, außer Sneddon."
Nicht schuldig, weil ..
Jackson war nicht schuldig, weil Sneddons und Zonens Opfer Gavin Arvizo im Zeugenstand "zusehends dahinwelkt." Weil Gavin Arvizos
"Aufführung so miserabel ist, dass sogar Richter Melville aufwacht. Melville, der bis dahin selten anders aussah als schmerzerfüllt, offensichtlich die verlorene Würde der juristischen Profession betrauernd. Aber während [Gavins] Kreuzverhör zeigt sich plötzlich Melvilles Ungeduld mit der Staatsanwaltschaft. Gewöhnlich dauert es zehn stille Sekunden, bevor er über einen Einspruch entscheidet, aber nach einigen Stunden über diesen Zeugen wird sein Zeigefinger äußerst nervös, zerschlägt umgehend jeden von Sneddons gelegentlichem Einspruch, sogar die begründeten. An einer Stelle befragt Mesereau den Jungen über seine Geschichtslehrerin:

"Sie behauptet, dass du zu allen Gelegenheiten aufsässig wärst und respektlos, ist das korrekt?"
Sogar ich (Anm.: Autor Matt Taibbi) erwarte einen Einspruch dazu; Mesereau fragt und antwortet gleichzeitig.
"Euer Ehren, Einspruch", sagt Sneddon. "Gefragt und geantw …"
"Abgelehnt", schnappt Melville, den Blick auf den Jungen geheftet.
"Du sollst antworten.""
Matt Taibbi. 36
Nicht schuldig, weil …
Jackson war der Anklage nicht schuldig, weil am Ende von Gavin Arvizos Auftritt im staatsanwaltlichen Zeugenstand des Ron Zonen und des Tom Sneddon, der D.A.
"so weit in seinem Stuhl versunken war, dass seine Schultern beinahe unter den Armlehnen sind. Seine Blamage ist vollkommen, wenn Mesereau den Jungen fragt, ob es wahr wäre, dass er Schauspieler werden wollte.
"Ja", sagt er, "aber jetzt, da ich so viele verschiedene andere Karrieren gesehen habe, möchte ich in den Gesetzesvollzug gehen."
Nicht schuldig, weil ..
Jackson war der Anklage nicht schuldig, weil Gavin Arvizo die Trumpfkarte des "Mad Dog" Tom Sneddon gewesen war, dem ein Richter vorgeworfen hatte, Unbeirrbarkeit und Härte stünden Sneddon für eine bessere Urteilsfähigkeit manchmal im Weg. 39
Der Angeklagte ist nicht schuldig, aber jemand in diesem Gerichtssaal ist es.
Michael Jackson ertrug schweigend fünf Monate Aussagen wie diese, bis die Jury ihn von allen 14 Anklagepunkten des Ron Zonen und des Tom Sneddon am 13. Juni 2005 freisprach. Das Urteilt lautete: Michael Jackson nicht schuldig.
"Der Angeklagte ist nicht schuldig, aber jemand in diesem Gerichtssaal ist es."
Atticus Finch, Anwalt in der Verfilmung von "Wer die Nachtigall stört". 40 Eine Geschichte um falsche Anschuldigungen, über Vorurteile, über Rassismus. Sie spielt in einem amerikanischen Gerichtssaal. "Wer die Nachtigall stört" gilt als favorisierter Film des Michael Jackson.
Im Laufe der Handlung erschießt Strafverteidiger Atticus Finch im Film einen tollwütigen Hund, dem Symbol für blinde Wut und Rassismus. Ein tollwütiger Hund ist ein "Mad Dog". Sneddon nannten sie "Mad Dog". Michael Jackson sang 1995 einen zornigen Song über den "Mad Dog". Zum Ende des Songs hört man einen Sound, der einem kläffenden "Mad Dog" ähnlich ist.
Jackson lässt seinen Song "D.S." 1995 mit einem Schuss enden. Mit demselben Schuss, mit dem Anwalt Atticus Finch den "Mad Dog" in "Wer die Nachtigall stört" zur Strecke bringt. Diesem "Mad Dog" als Symbol für Rassismus und blinde Wut.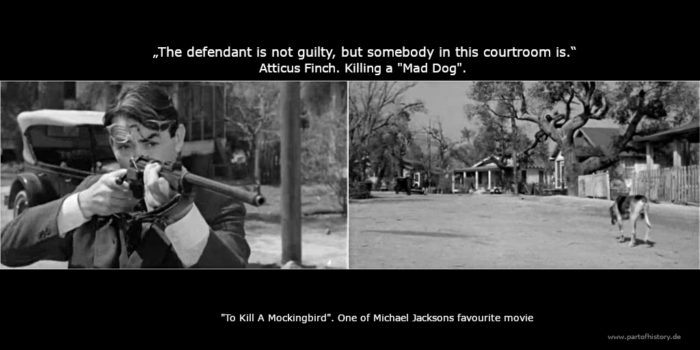 Jacksons Strafverteidiger ab 2003 namens Thomas Mesereau brachte neben Ron Zonen auch den "Mad Dog" Tom Sneddon 2005 im Gerichtssaal zur Strecke.
"Welchen Anwalts-Film mögen Sie am liebsten?"
"To kill a Mockingbird."
Thomas Mesereau. 41
"Ich bin verrückt nach To Kill a Mockingbird. […] Es handelt vom Rassismus im Süden. Es geht um einen Mann, der vor Gericht gestellt wird, weil er eine weiße Frau vergewaltigt haben soll.[…]Mann, dieser Film wird dich fertigmachen. Ich liebe ihn so sehr. Er ist definitiv einer der besten Filme. Ich wünschte, ich hätte ihn gedreht. Oh Gott, er ist so gut."
Michael Jackson im Jahr 2000. 42
Michael Jacksons Strafverfolgung endete nicht mit seinem Freispruch am 13.06.2005. Sie endete noch nicht einmal vier Jahre später, als man ihn endgültig für tot erklärte.
"… bedenke, es ist eine Sünde, eine Nachtigall zu töten."
Atticus Finch. 43
"Nachtigallen erfreuen uns Menschen mit ihrem Gesang. Sie tun nichts Böses […] Sie singen sich nur für uns das Herz aus der Brust."
Atticus Finch. 44
"Michael Jackson war einer der nettesten, liebenswürdigsten Menschen, die ich je getroffen habe. Er glaubte wirklich daran, dass er eindeutig dazu berufen war, eine bessere Welt zu schaffen. Er hoffte, dies durch Musik, Kunst, Liebe und gute Taten zu erreichen."
Thomas Mesereau. 45
"Darum ist es Sünde, eine Nachtigall zu töten."
---
Verwandte Beiträge:
Home » PaRt of History. Beiträge » Kategorie Anschuldigungen » Der Jackson Prozess: "Der Angeklagte ist nicht schuldig, aber jemand in diesem Gerichtssaal ist es"
Quellen