Zum Strip gezwungen wurde Michael Jackson im Dezember 1993 in seinem Haus in Neverland durch die Staatsanwaltschaft. Die Staatsanwaltschaft fertigte Fotos von Jackson während der Leibesvisitation (Strip Search) an. Evan Chandlers Anwalt Feldman verlangte die Herausgabe der Fotos. Der Anwalt wollte sie als "gewaltiges Druckmittel" gegen Jackson einsetzen, den er gerade auf $20 Millionen Dollar verklagte hatte. Eine Zivilklage, die der Anwalt in den Medien führte.
"

It was a nightmare. A horrifying nightmare." Michael Jackson am 22.12.1993 in Neverland.

Quelle hier

"A nightmare, that's the case. Never-Neverland, that's the place."
Jackson lässt Rod Serling 2001 diese Worte im Song THREATENED "rappen". 1
"It was a nightmare, a horrifying nightmare."
Jackson, LIVE aus Neverland am 22.12.1993. 2
Als Jackson Vitiligo rechtfertigen musste und das Massaker des Anwalts Feldman

Zum Verständnis für die folgenden anwaltlichen Strategien zur Durchsetzung von Millionen Dollar Forderungen im Zivilverfahren Evan Chandler gegen Michael Jackson 1993:
Im Februar 1993 hatte Jackson zum ersten Male einem Millionenpublikum in einem Live-Interview seine fehlende Hautfarbe erklärt, weil das Publikum ihn nicht länger als Afroamerikaner identifizieren konnte. Vitiligo, bringt er den Zuschauern die Diagnose bei. 3 Depigmentierung seiner Haut. Fleckenweise. Überall.
Ab Juni 1993 hoffte der drehbuchschreibende Zahnarzt Evan Chandler, der King of Pop würde ihm zu einer Hollywoodkarriere verhelfen. Nachdem Chandlers Hoffnungen unerfüllt blieben, forderte er vier Drehbücher in Millionenhöhe und drohte: "Es wird ein Massaker geben, wenn ich nicht kriege, was ich will." Der Drehbuchschreiber bekam nicht, was er wollte und in den Medien wurde "Jackson: Kindesmissbrauch" verkündet. Anschließend verklagte Chandler Jackson in einem Zivilverfahren auf Zahlung von $30 Millionen.
Im August 1993 wurde zur Untermauerung von Chandlers Anschuldigungen, der King of Pop hätte den 13-jährigen Jordan Chandler sexuell missbraucht, eine von Chandlers Anwalt Feldman aufgesetzte, "unglaublich detaillierte" schriftliche Erklärung, die von dem Jungen stammen sollte, illegal der Presse übergeben. Anwalt Feldmans Schreiben, von Jordan unterschrieben, enthielt "äußerst ausführlich in allen Einzelheiten", wie der angebliche Missbrauch stattgefunden haben soll. Feldman hatte sie in seinem Schriftsatz fürs Gericht aufgenommen "diese ganze Historie im allerfeinsten Detail", die umgehend ihren Weg in die Klatschpresse fand. 4, 5
Trotz aller Anstrengungen, mit diesen vorhersehbaren, abgedroschenen Methoden, einen Millionendollar Zivilprozess gegen einen Prominenten in den Medien zu führen und Jackson zur Zahlung innerhalb des Zivilverfahrens zu zwingen, dümpelten im November 1993 Feldmans zivile Prozessstrategien, die Dollars für Chandler einzuklagen, erfolglos dahin. Jackson zahlte nicht und dann verweigerte sogar sein Anwalt Bert Fields die Kommunikation mit Evan Chandlers Seite. Jeglicher Schriftverkehr erfolgte demonstrativ nur unter dem Namen von Bert Fields Junior Mitarbeiters. 6
Niemand wollte den auf Evan fixierten Chandler ernst nehmen. Jackson auch nicht. 7
Anwalt Feldmans Strategie: Jacksons Vitiligo und Leibesvisitation/Strip Search in Beweisaufnahme (und Medien) aufnehmen lassen
Um sein Verfahren voranzutreiben und den Gegner in seinem Zivilverfahren unter Druck zu setzen, ließ Anwalt Feldman am 14. Dezember 1993 Jacksons Vitiligo buchstäblich Punkt für Punkt in die Beweisaufnahme einfließen. 8 Unter Feldmans Arbeitsanweisung entstand in mühevoller Kleinarbeit eine von Jordan Chandler unterschriebene Beschreibung gefleckter Genitalien, die von Jackson sein könnten. Die Chance, bei der Komposition der Flecken 1993 ins Schwarze oder ins Weiße zu treffen, standen dabei 50/50. Doch ob die unter Feldmans Regie entstandenen Beschreibungen akkurat gewesen waren oder nicht, war unerheblich. Es kam auch nicht darauf an, denn Vitiligo verändert das Hautbild. Ständig. Evan Chandler wurde von den Untersuchungsbehörden über diesen Fakt aufgeklärt. Chandlers Reaktion seinem Anwalt Feldman gegenüber soll wie folgt gewesen sein: 9
"Scheiße, diese Kerle scheinen eine Antwort auf alles zu haben."
Worauf Stratege Feldman entgegensetzte:
"Nein, das ist gut für uns!"
"Warum?"
"Weil er (Anm.: Jordan Chandler) Recht hat, wenn er Recht hat. Und wenn er falsch liegt, haben wir dafür eine Erklärung!"
"Ha!"
"Yeah, das ist für uns ein No-loser (Anm.: unmöglich zu verlieren)."
"Das ist sehr gut."
"Gut? Das ist großartig! Bleib du bei den Zähnen, Junge. Ich bleib beim Gesetz."
Die Idee, Jacksons außergewöhnliche Pigmentierung zum Thema zu machen, war nicht neu.
Ziel der Leibesvisitation/Strip Search des Michael Jackson"Ein gewaltiges Druckmittel, einzusetzen bei Verhandlungen gegen diesen ungemein privaten Mann. Bilder seines Geschlechtsteils".
Eine der verschiedensten Beschreibungen der Jackson-Genitalien soll seit Oktober 1993 existieren. Auf einer Serviette. In der Schrift eines Erwachsenen steht daneben "Meine Theorie". Wessen Theorie dabei verkauft wurde, steht da nicht. Victor Gutierrez, der Mann, der seine ganz eigenen Fantasien an Tabloid Zeugen weitergegeben hatte, soll die Beschreibung dieser krakeligen Penis-Zeichnung mit eigenen Details verziert und versucht haben, die Skizze anschließend in den Klatschblättern zu vergolden. (Wer möchte, kann die Zeichnung hier betrachten). 1995 schmückte Gutierrez sein Buch damit, das bald darauf von einem Gericht wegen pädophiler Fantasien verboten worden war. Vieles spricht dafür, dass Gutierrez dem drehbuchschreibenden Zahnarzt Evan Chandler bei der Ausarbeitung seiner Missbrauchanschuldigungen behilflich gewesen ist.
Jahre später dekorierte mit der krakeligen Penis-Skizze Onkel Ray Chandler, Evans Bruder, seine Webseite damit. Der Onkel deckte die Einzelheiten in der Zeichnung ab, die für seine Zwecke untauglich waren. Und bot sie Liebhabern zum Verkauf.
Im Dezember 1993 jedenfalls beantragte Stratege und Anwalt Feldman Fotografien von Körper und Genitalien des Michael Jackson:
"Ein gewaltiges Druckmittel, einzusetzen bei Verhandlungen gegen diesen ungemein privaten Mann – Bilder seines Geschlechtsteils." 10
In Fakt eine ausgeklügelte Verhandlung. Am Ende waren die Bilder Jackson $15 Millionen wert. Dazu Super-Anwalt Larry Feldman: 11, 12
"Als wir eine Begutachtung von Michael Jackson wollten, und Fotografien von Michael Jackson, weil der Junge Angaben über seinen Körper und Geschlechtsteil machte, hatten wir diese im Detail zu beschreiben, um nachzuweisen, dass wir ein Recht auf diese Fotos hatten."

Stunden soll es gedauert haben, bis Feldman eine Beschreibung des Jungen auch nur hatte verstehen können. 13 Stunden für die angebliche Beschreibung eines angeblichen Penis. Vielleicht aber hatte Anwalt Larry Feldman gleich Evan Chandler für die Beschreibung zurate gezogen, der Jackson Ende Mai 1993 nackt gesehen haben will. Da soll der Dentist dem Star ein Opiat ins Gesäß gespritzt haben und war über Stunden mit ihm allein, während dieser bewusstlos im Bett gelegen haben soll.
Die intime Beschreibung des Michael Jackson durch den Anwalt veröffentlicht: "die Presse liebte das …".
Doch eine korrekte Beschreibung durch Jordan Chandler war 1993 auch gar nicht wichtig. Jacksons intimste Hautverfärbungen konnten Millionen Zuschauer vermuten, die sein Interview im Februar gesehen hatten. 14 Feldmans eigentliches Ziel war die bloße Existenz einer solchen Beschreibung.
"Und es spielte fast keine Rolle, ob wir gewannen oder verloren …"
Feldman, Chandlers Anwalt, im Rückblick. 15
Michael Jackson galt als der geheimnisvolle Mann hinter der Maske. Beschreibungen seines Penis würden Feldmans Schriftsätze in der Zivilsache dekorieren, von denen er wusste, sie würden über das Gericht an die Öffentlichkeit gelangen.
"Und die Presse liebte das, und holte es ab."
Feldman, Chandlers Anwalt, der seine Strategie von 1993 noch in einem Seminar 2010 zum Besten gab.
Jackson, der Strip und PRIVACY: "In that cold winter night, my pride was snatched away"
Stunden vor dem Weihnachtsfest am 20.12.1993 wurde der "Michael-Jackson-Missbrauch-Fall" 16 noch absurder. Der D.A. und Staatsanwalt Tom Sneddon besetzte Neverland, um Jacksons Genitalien höchstpersönlich in Augenschein zu nehmen. Michael Jackson, dessen Gastfeundschaft historisch belegt ist, soll die Staatsdiener zur Begrüßung mit einem Abendessen empfangen haben. 17
In "kalter Winternacht" 18 brachte der D.A. zwei Detektive und einen Zollstock mit, um Jacksons vermutlich geflecktes Geschlecht zu vermessen. In Länge und Höhe. Sergeant Spiegel sollte Fotos von Jacksons Gesäß, Jacksons Hodensack und Jacksons Penis anfertigen. Von Letzterem auch in angehobenem Zustand. 19
Jackson kam den Aufforderungen nach. Aber Sergeant Spiegel beschrieb dessen Stimmung als "ärgerlich". Ein Arbeitsklima, das Sergeant Spiegel als unproduktiv empfand. (Zuvor hatte Jackson die Männer gastfreundlich mit einer Mahlzeit empfangen.)
"Mir kam der Gedanke, obwohl er konkret kooperativ war, dass seine Kooperation plötzlich enden könnte."
Und doch schien Jacksons Mitarbeit zu genügen, denn er gab dem Sergeant und dem Assistenten die Gelegenheit 23-mal Körper und Genitalien des King of Pop zu fotografieren. In Worten dreiundzwanzig. ("Ain't your pictures enough?") 20
"Während ich an Mr. Jacksons linker Seite war, forderte Dr. Strick Mr. Jackson auf, seinen Penis anzuheben."
Jackson, kooperativ, kam auch dieser Aufforderung nach. Sergeant Spiegel aber bemängelte erneut die Störung des Arbeitsprozesses. 21
"Mr. Jackson fragte, warum er das machen sollte."
Dann der Sensationsfund Spiegels, nach einer Schilderung von Gossip-Reporterin Diane Dimond:
"Als Mr. Jackson der Aufforderung Dr. Stricks nachkam und seinen Penis anhob, bemerkte ich einen dunklen Fleck an der unteren linken Seite von Mr. Jacksons Penis."
Hier ist er also, der exakte Moment der angeblichen Entdeckung des alles entscheidenden Fleckens; der eigentliche Grund der aufwendigen Untersuchung.
"Es ist unklar, ob Sergeant Spiegel tatsächlich Zeit hatte, um eine Fotografie des Flecks zu schießen, den er sah." 22
DIE ausschlaggebende Million-Dollar Jahrhundertaufnahme soll also nie zustande gekommen sein, die Jackson hätte überführen sollen? Ausgerechnet?
Sergeant Spiegel sagte später aus, er war nicht ganz sicher, ob der King of Pop sich nicht vielleicht doch auf ihn stürzen würde. Deshalb. 23
Interessanterweise war Jackson für weitere Aufnahmen seines Unterleibs gleichwohl weiter kooperativ. Doch auch in dieser Verlängerung war das angeblich explizite Beweisfoto nicht nachgeholt worden.
Die Versionen der Leibesvisitation/ des Strip Search des Michael Jackson von Entertainment-Autoren Taraborrelli und Dimond
Chandlers Beschreibung des Michael Jackson von 1993 soll nicht nur Flecken, sondern auch einen beschnittenen Penis enthalten. Entertainment-Autor Taraborrelli widmete diesem Umstand ab 1999 in seiner ganz eigenen Version vom erzwungenen Strip des Jackson große Aufmerksamkeit und verkaufte sie in seinem Buch. Enthüllungsreporterin Dimond allerdings konzentrierte sich in ihrer Interpretation der körperlichen Durchsuchung (Strip Search) des Jackson auf angebliche Flecken und dafür verschwieg sie die unterstellte Beschneidung. Dimond verkauft ihre Version wie Taraborreli auch in einem Buch. Das tatsächliche Ergebnis allerdings steht für uns alle zu lesen kostenlos zur Verfügung:
Jacksons Autopsiebericht hatte uns 2009 endgültig über einen unbeschnittenen Jackson aufgeklärt. 24 Bis dahin durfte jahrelang spekuliert werden, doch Chandlers Beschreibungen vom Körper des Michael Jackson sind falsch. Das mag daran liegen, dass er Jacksons Körper nie gesehen hatte.
Über das nächste Jahrzehnt aber, nach dem Ermittlungsflop in der kalten Winternacht von 1993, drohte trotzdem D.A. Sneddon vor sich hin, Chandlers intime Beschreibung von Jackson sei akkurat gewesen. Sneddon beklagte aber im selben Atemzug, es war des unkooperativen Jackson Schuld, der nicht alle gewünschten Fotos habe machen lassen. 25 Doch wenn in den Jahren nach 1993 die Beteiligten so eifrig beteuerten, dass "Beweisfotos" vorhanden sein sollen, also gelungen sein sollen, welchen Grund hätte es dann geben sollen, sich überhaupt zu beklagen?

Zurück in die Zukunft von 2005 und einer orientierungslosen Staatsanwaltschaft
Am 25.05.2005 wedelte Staatsanwalt Sneddon ein letztes Mal mit Fotos vom Penis des des Michael Jackson während der Leibesvisitation/Strip Search von 1993. In einem Schriftsatz drohte er, er habe es, das fragliche Beweisfoto von 1993. So schrieb er jedenfalls in seiner Drohung von 2005. Jackson saß zu dieser Zeit seit Monaten für einen noch absurderen Prozess als den von 1993 auf Sneddons Anklagebank, keine drei Wochen von seinem Freispruch entfernt. Sneddons Drohung, die Fotos des King of Pop's Penis über den Beamer an die Wand des Gerichtssaals zu werfen, wurde dann des Staatsanwalts letzte Amtshandlung in Sachen Jackson. Er wollte die Jury beeindrucken, mit diesem "gewaltigen Druckmittel, zu verwenden bei Verhandlungen gegen diesen ungemein privaten Mann – Bilder seines Geschlechtsteils." Sneddon drohte der reinen Formulierung wegen. Was auch immer die Fotos hätten beweisen sollen, das Gericht hatte entschieden, es spielte 2005 ebenso wenig eine Rolle wie 1993. Außer für den privaten Jackson selbst.
Was uns bleibt, ist Sergeant Spiegels angebliche Aussage von 1994: 26
"Ich bemerkte einen dunklen Fleck an der unteren linken Seite von Mr. Jacksons Penis."
Wobei Orientierungslosigkeit ein besonderes Merkmal in Ermittlungen gegen Jackson ist:
"Die Fotografien zeigen einen Fleck auf der rechten Seite des Penis des Angeklagten …"
Staatsanwalt Thomas Sneddon.27
Noch Jahrzehnte später rätselt die Welt, ob Sneddon nun den Fleck beim King of Pop nachweisen konnte, links gelegen, rechts gelegen, dunkel auf weißem Grund, hell auf dunklem Grund. 28 Oder wohl eher nicht.
"…each scene with his facial mole in a different location–funny, that is, until the sheriff points out the joke"
Noch 2005 boten sich mit dem Jackson-Fall befasste Ermittlungsbeamte in Gossip-Talkshows zu diesem Thema an. Sheriff Jim Thomas z.B. unterhielt in dieser Zeit mit Jacksons Penis das amerikanische Publikum: 29
"Jim Thomas, sie führten die Untersuchungen in 1993. Haben Sie die Bilder von Michael Jacksons Genitalien gesehen?"
Thomas: "Nun, ich hatte Gelegenheit dazu und ich schlug es aus. Und das ist eine Entscheidung, die ich bis zum heutigen Tage schätze."
(Gelächter)
"Von meinen Ermittlern hörte ich damals, dass es beinahe identisch war. Ich weiß nicht, ob dem tatsächlich so ist. [Anm.: Chandlers Darstellung]" 30
Beinahe Beweise, gehört in absurden Verfahren, in denen es auf Richtigkeit in den Vorwürfen gegen Jackson nie ankam. Unterstellung allein reichte bei Jackson schon immer aus und ist 2019 schmerzhaft aktuell.
Der Zahnarzt Evan Chandler, der so gerne Hollywood-Drehbuchautor geworden wäre und 1993 von Jackson nichts anderes als Drehbücher wollte, war daran ebenso beteiligt wie an der Komik seines einzigen – jedenfalls im Kino – veröffentlichten Drehbuchs "Robin Hood – Männer in Strumpfhosen".
"Die Schauspieler pausieren nach ihren Sätzen, als ob sie darauf warten, dass ihr Joke auch wirklich den Dämlichsten im Publikum erreicht. […] Prince John taucht in jeder Szene mit seinem Muttermal an einer anderen Stelle auf – lustig, ist das bis der Sheriff auf den Joke hinweist." 31
22.12.1993 – die Leibesvisition/der Strip Search als "entwürdigendste Qual meines Lebens" LIVE in der Weihnachtsansprache des Michael Jackson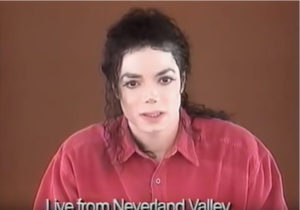 Zwei Tage nach dem Alptraum des Michael Jackson durch den erwzungenen Strip während der Leibesvisitation von 1993 in Neverland gab dieser ein Statement zu dieser "entwürdigendesten Qual" seines Lebens ab. LIVE. Äußerst detailliert. Länderweit. Zur Hauptsendezeit auf Hauptfernsehsendern. Bevor es andere für ihn taten. 32
Nur 48 Stunden waren vergangen, nachdem Jackson den Strip, die Leibesvisitation über sich hatte ergehen lassen müssen. Die Rede muss Jackson eine Menge gekostet haben, nicht nur Geld, auch Überwindung. Seine Stimme kippt, in der alle Emotionen liegen. Miserabel sieht er aus. Dann verhaspelt er sich. Trotzdem managt er, zur Primetime, die Landesführern vorbehalten ist, "die entwürdigendste Qual" seines Lebens in allen Einzelheiten zu offenbaren.
Michael Jackson stellt sich den Nationen und entblößt sich erneut.
Ein Gentleman auf die altmodische Art
Nur Monate zuvor hatte er sich als "altmodisch" und als "Gentleman" beschrieben, als zu "verlegen", um über Romanzen und Sex interviewt zu werden. 33 Was brachte Jackson dazu, jetzt diese Prozedur in allen demütigenden Details zu schildern? Wollte er Gegnern und Tabloids die Spekulationen und Schlagzeilen nehmen?
"Unschuldig" im Gericht der öffentlichen Meinung
Zum Ende seiner Ansprache aber hatte Jackson das breite Publikum überzeugt, das ihm im Verfahren "das Volk gegen Jackson" seit Monaten den Prozess gemacht hatte. Das letzte Wort gehörte auch hier dem Angeklagten. Nach anschließender Meinungsumfrage war die Mehrheit der Zuschauer von seiner Unschuld überzeugt. Das "Gericht der öffentlichen Meinung" hatte Weihnachten 1993 das Urteil in Sachen "das Volk gegen Michael Jackson" verkündet: "Nicht schuldig". Für Anwalt Feldman, der Chandlers Millionen-Dollar Zivilprozess in den Medien mithilfe von bezahlten Ex-Dienstboten in Gossip-Shows geführt hatte, war Jacksons Auftritt ein echtes Problem für die Meinungsmanipulation im Zivilprozess.
Am 04.01.1994 beantragte Anwalt Feldman die Fotos vom Strip Search des Michael Jackson während der Leibesvisitation, 34 das "gewaltige Druckmittel, einzusetzen bei Verhandlungen gegen diesen ungemein privaten Mann". Eine leere Drohung weiß man im Rückblick, aber trotzdem eine schäbige Strategie.
"Hey, Larry", witzelte Evan. "Hast du Weitzman im TV gesehen, wie er die Staatsanwälte warnte, er würde die Scheiße aus ihnen herausklagen, wenn sie diese Bilder von Michaels Eiern rauslassen?"
"Jesus Christ!", lachte Larry. "Kannst du dir vorstellen, du wachst morgens zum Frühstück damit auf? Wer zur Hölle würde die überhaupt sehen wollen?" 35
Die Wetten standen gut, dass die Tabloids sich diese Bilder was kosten lassen würden.
"Ein Polizeischnappschuss von Jacksons Penis war auf dem Auktionsblock für $3 Millionen. Cash. Wenn es sich auch am Ende als zu teuer herausstellte."
Januar 1994, Frontline/Tabloid-Truth. 36
Evan Chandlers Plan, der nicht nur der seine war, hatte seinen Höhepunkt auf niedrigstem Niveau erreicht: 37
"Alles lief nach Plan. Dann, am Morgen des 30. Dezember erschien Santa Claus in der Verkleidung eines jüdischen Rechtsanwaltes mittleren Alters namens Larry Feldman. (…)
"Es ist vorbei, Evan. Es ist ein gemachter fucking Deal!"
"Keinen Scheiß! Du machst Witze!" Evan konnte es nicht glauben."
---
Verwandte Beiträge:
Home » PaRt of History. Beiträge » Kategorie Anschuldigungen » Jackson Strip Search/Leibesvisitation 1993: "A nightmare, that's the case."
Quellen