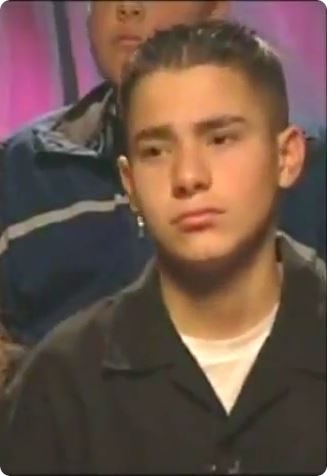 One more time. Im "Michael Jackson Missbrauch 2003" (Take Two) lesen sich die Rollen und ihre Darsteller wie ein Remake der Inszenierung der Anschuldigungen des Drehbuchschreibers Evan Chandler aus dem Jahr 1993 (Take One).
Gavin Arvizo war 2003 der jugendliche Ankläger in der Inszenierung des Michael-Jackson-Missbrauchs. Mit der Wahrheit nicht sonderlich vertraut, wollte auch dieses Kind zum Film. 1 Gavin Arvizo teilte nicht nur seine Hollywoodambitionen mit Jordan und Evan Chandler und deren Inszenierung des "Michael Jackson Missbrauchs" von 1993.
Spenden für die Arvizos: Autos, Geld, Truthähne, Geld, Computer, Geld …
Gavin Arvizos lebte mit seiner Mutter Janet, seinem Bruder Star und seiner Schwester Dewellin von der Sozialhilfe, als die furchtbare Krebskrankheit ihn heimsuchte. Hollywoodstars sind durchaus hilfsbereit, und als Familie Arvizo um Hilfe bat, wurde Hilfe gewährt. Emotional. Und finanziell. Janet Arvizo und ihre Familie hatten Übung im Umgang mit den Stars: Sie starteten Telefonanrufe, nahmen Schauspielunterricht, organisierten Spendenaufrufe. Auch die Polizei wurde aufgefordert und sammelte für einen Truthahn.
Irgendwann suchten die Arvizos Hollywoodstar Chris Tucker heim und appellierten an seine Hilfsbereitschaft. Emotional. Und finanziell. Tucker half den Arvizos, da war von Michael Jackson noch gar nicht die Rede. Der Schauspieler machte seine eigenen Erfahrungen mit den Arvizos und beschrieb Gavin später als raffiniert, gerissen und clever. Gemeinsam mit Bruder Star Arvizo hatte Gavin von Tucker die verschiedensten materiellen Dinge gefordert, der nach Meinung der Jugendlichen "zu viele Sachen hätte, die er nicht brauchte". Darunter Tuckers Geld, von dem er laut Arvizo "genug hätte." Mit Gavins Krankheit, so Tucker, hätten die Arvizos ihre Mitmenschen manipuliert. Zum Ende ihrer Besuche überkam Tucker das unwiderstehliche Bedürfnis, die Taschen der Jugendlichen und die eigene Geldbörse zu kontrollieren. 2
… Neverland
Über Chris Tucker kam die Familie Arvizo in Kontakt mit Michael Jackson. Michael Jackson half mit einem Mental-Programm, bei dem Gavin sich vorstellen sollte, dass "Pack-Man" seine Krebszellen aufrisst, Jackson half mit seiner Gastfreundschaft auf Neverland und Michael Jackson leistete den Arvizos finanzielle Hilfe.
Gavin Arvizo wurde gesund. Doch die Hilfen des Michael Jackson beanspruchte er und seine Familie weiterhin.
Der gesundete Gavin soll sich auf Neverland "rüde und respektlos" benommen haben.
Golfwagen demolierten Gavin und sein Bruder ebenso wie das Gästebuch Neverlands, welches Gäste wie Marlon Brando und Elisabeth Taylor mit Eintragungen geheiligt hatten. Vor dem Personal fuchtelten die Jungs schon mal "aus Spaß" mit dem Messer herum. In den Weinkeller stahlen sie sich ebenso unerlaubt, wie in das Schlafzimmer des Michael Jackson. Auch, wenn der nicht da war.
Gavin Arvizo im Kreuzverhör 2005: 3
"Konnte deine Familie kostenlos in Neverland bleiben?"
Gavin Arvizo: "Jeder bleibt kostenlos in Neverland."
"Wer, glaubst du, zahlt die Rechnungen?"
Stewardessen beschrieben den Jungen als fordernd und rüde. Wenn er Lebensmittelschlachten lieferte, war "es peinlich, ihn an Bord zu haben." 4 "Fahr zur Hölle" soll Gavin Arvizo einem Regisseur entgegnet haben, als der nur seinen Stuhl zurück wollte. 5
Gavin Arvizo: "… ein Disziplinarproblem."
2005 bot sich der zwölfköpfigen Jury, die wegen der Anschuldigungen des Gavin Arvizo über Michael Jackson zu Gericht sitzen musste, ein streitsüchtiger 15-Jähriger mit ausreichend Erfahrung in schulischen Disziplinarverfahren.
"Einer Menge disziplinarer Probleme … Ich war ein Disziplinarproblem."
Gavin Arvizo. 6
Mitschüler hatte Gavin als "behinderte Leute" beschimpft. Der Jugendliche war ein aufsässiger Störenfried, dem Schulverweis drohte. Ein Lehrer drohte ihm sogar mit Polizei. 7
"Yeah, ich hab noch nicht mal meine Hausaufgaben gemacht."
prahlt Gavin vor Gericht. 8
"Du hast sie nie gemacht?"
"Okay, manchmal."
Das war in Neverland. Michael Jackson hatte ihm dabei geholfen. 9
Selbstbewusst beeindruckte Gavin Arvizo das Gericht 2005 mit seinem Schulalltag: 10
"Eine Menge Kinder gratulierten mir, wenn ich mich Lehrern widersetzte."
Gavin hatte sich auch Lehrer Finkelstein widersetzt: 11
"Jeder hatte Probleme mit ihm."
"Hattest du Probleme in Mr. Finkelsteins Klasse?"
"Ich war "jeder"."
"Pardon?"
"Ich war einer von "jeder"."
"Du sagst, dass jeder ein Problem hatte?"
"Wenn jeder ein Problem hatte, dann bin ich wohl einer von denen, richtig?"
Lehrer vermuteten Drogen bei Gavin, wollten ihn – zum Schutz der übrigen- von den Schülern fernhalten. Während des Nachsitzens. 12 Gavin widersetzte sich auch hier, wurde von Schülern angefeuert, weil "niemand sich zuvor widersetzte". 13Gavin Arvizo klärte 2005 das Gericht darüber auf, dass Lehrer wie diese "nicht länger meinen Respekt verdienen". 14 Und damit teilte der Lehrer dasselbe Schicksal mit Michael Jackson: 15
"Ich mag ihn nicht mehr richtig. Ich denke nicht, dass er den Respekt verdient, den ich ihm schenkte und als der coolste Typ in der Welt."
"Du erzählst also der Jury, dass du eine Menge mehr von Michael Jackson verdientest, als du und deine Familie erhielten?"
Gavin und seine Familie genossen viele Male den Aufenthalt in Neverland, ohne dass Jackson anwesend war. 16
Bei seiner Vorstellung im Gericht durch den Staatsanwalt hatte Gavin Arvizo im Zeugenstand für die Jury
"die Rolle des stillen, hilflosen Kindes, skrupellos ausgenutzt von einem erwachsenen, sexuellen Raubtier, gespielt"
"Morgen, Tom."
Der 15-jährige Gavin zum Bezirksstaatsanwalt Thomas Sneddon Jr. am ersten Tag seiner Aussage im Gericht gegen Michael Jackson vor den Augen der Welt. 17
"Gavin ist ein wundervoller, wundervoller junger Mann."
Tom, nachdem er den Fall verloren hatte, in dem er 2003 den Ankläger Gavin Arvizo als mustergültiges Opfer porträtieren wollte. 18 Über fünf Monate hatte dann 2005 eine zwölfköpfige Jury aus Müttern, Vätern, Lehrern, Professoren und Hausfrauen Gavin Arvizo sorgfältig beobachtet, zugehört, studiert und geprüft und glaubten ihm kein Wort.
Nach der Sendung "Living with Michael Jackson" hatte ab Februar 2003 der Fokus des Medieninteresses nicht nur auf den King of Pop, sondern auch auf Gavin Arvizo gelegen. Dazu hatte eine Mitarbeiterin des Jugendamtes vermerkt, dass der Teenager "offensichtlich die Aufmerksamkeit genießt".  19
Gavin Arvizo hatte gerade erzählt, Michael Jackson hätte ihn sexuell missbraucht.
---
Verwandte Beiträge:
Quellen