Tabloid-Zeugen verkaufen sich an die Medien. Gegen Bares.
"Creepin' from a dusty hole. Thales of what somebody told"
Michael Jackson, 1995. 1

Spätestens seit 1993 vermarkten in Sachen Jackson meistbietend selbsternannte Zeugen exklusive "Augenzeugenberichte" an Tabloids und sind im Rahmen strafrechtlicher Ermittlungen ein Joke. Manchen "kam was komisch vor", das sind die billigsten Zeugen. Manche "haben mit eigenen Augen gesehen" und den Satz lassen sie sich im Tabloid-Geschäft was kosten. In tatsächlichen Polizeivernehmungen haben sie alle gemeinsam, dass sie Beobachter von gar nichts waren.
Was bleibt, sind seit 1993 im Skandal um den behaupteten Missbrauch des Michael Jackson frustrierte Ermittlungsbeamte.
Bezahlte Tabloid-Zeugen sind wertlos
Ex-Wachleute promoteten ihre Enthüllungsbücher und durchliefen Talkshows als Neverlands "Chef der Security". Auftritt für Auftritt stieg ihre Anzahl der "Kinder, die sie in Jacksons Schlafzimmer gesehen hatten". Maximum 100 Kinder wollen sie dann in Talkshow Nummer 5 gesehen haben. 2
Zeugen wie diese zermürben im Skandal um Jackson seit 1993 den eifrigsten Staatsanwalt.
Da sind diese Putzfrauen, die Jacksons Gastfreundschaft missverstanden und nicht nur mit seinen Süßigkeiten aus Neverland ihre eigene Kasse aufbesserten.
"Even in my home I ain't safe as I should be. Things always missin'"
Michael Jackson überließ diesen Satz Rapper Notorious B.I.G. in THIS TIME AROUND. 1995. 3

Nicht nur wegen Diebstahls in Neverland war den Putzfrauen oder Wachleuten gekündigt worden, als sie anschließend Supermarktblättchen gegen Bares zur Verfügung standen, wenn sie "verrückte Sex-Geheimnisse" des Superstars und seiner Ehefrau Presley, Tochter des Elvis, vermarkteten. Der Putzfrau Gewinn durch die Tabloids lag irgendwo um die $32.000.
Ex-Zimmermädchen aus Neverland verkaufen Tabloids eine angeblich ganze Liste von "Beweisen", die sie angeblich bei einer Razzia in Neverland vor der Polizei versteckt haben wollen. Wenn Zimmermädchen klüger sein sollen als das gesamte Police-Department, lassen Interviews wie diese Beamte um ihren Ruf fürchten.
"Ehemalige Haushälterinnen" verkaufen sich über Jahrzehnte immer und immer wieder zum spektakulären "allerersten Mal" an Talk-Shows für explosive "neue Details", die schon 1993 für die Polizei vollkommen bedeutungslos waren. 4, 5, 6
Selbsternannte Zeugen werden in den Stories um Jackson zu diesen berüchtigten "Sources" und tauschen selbsterdachte Geschichten über Jackson gegen Dollars ein. Liebschaften ehemaliger Porno-Stars dealten dabei mit der Junk-Presse um sage und schreibe eine halbe Million Dollar, setzen nach dem Handel ungerührt ihre Karriere in Sachen Internet-Pornos fort und kassierten über "Virtuelle Sünde" für den von ihnen angebotenen Hardcore-Sex. 7, 8,  9, 10, 11, 12

"Sources" wie diese waren über ein Jahrzehnt Grundlage der Ermittlungen des Staatsanwalts Tom Sneddon gegen Michael Jackson. Der Staatsanwalt hatte keine anderen.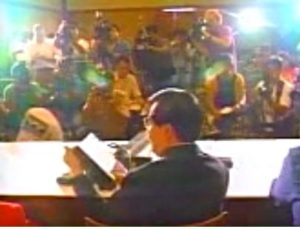 1993. Ein Ehepaar, das einst in Neverland als Hausmeister und Koch tätig gewesen war, servierte den Tabloids auf einer Pressekonferenz ihr "Geheimes Neverland Tagebuch". Anfangsgebot: $900.000.
US-Kripobeamte reisten auf Kosten von Steuergeldern extra nach Manila, um sich von deren wertloser Geschmacklosigkeit zu überzeugen, während die Köche derweil weiter mit Tabloids um $500.000 dealten: Gegen Aufpreis wollten sie Jacksons Hand bei einem Minderjährigen in der Hose gesehen haben. Ihre billigere Version hatte es nur mit der Hand auf der Hose gegeben. Zum Dessert servierten sie einen Handel mit Buchverlegern und würzten ihren Brei mit "neuen mysteriösen Zeugen". 13
"Geheime Tagebücher" für die Medien verkauft
Das Tagebuch der Köche ist das erste von "explosiven" Tagebüchern um Jackson, die in Serie gehen sollten: Evan Chandler soll ein Tagebuch gehabt haben, das er spätestens 1996 verfilmen wollte, sein Bruder Raymond und Klatsch-Reporterin Dimond machten es zur Grundlage ihrer jeweiligen Bücher von 2004 und 2005 und verkauften es als "Wahrheit". Jordan Chandler soll ein Tagebuch gehabt haben, ein Chilene mit Namen Gutierrez machte es gemeinsam mit Vater Evans Tagebuch zur Grundlage seines Buches von 1995 und schmückte es mit seinen eigenen pädophilen Fantasien. Diese ganzen promoteten Tagebücher hatten vor allem eines gemeinsam: Sie waren alle geheim.
"Ich schwöre, ich sah …"
gelobte Putz- und Kochfee Mark Quindoy, wenn Kameras liefen. Als "… einen stattlich aussehenden Mann" mit "weltlichem Charme", versucht ihn Gossip-Reporterin Dimond noch 2005 ins Reine zu schreiben. Er war einst für ihre Sendung eingekauft worden. 14
Alles was Staatsanwalt Sneddon in Ermittlungen gegen Jackson bleiben solllte, waren die schäbigen Tabloid-Geschichten des Kochs, den er vor Gericht "Zeuge" nennen musste.
Rechtsanwälte finanziert mit skandalösen TV-Auftritten
1993. Kurzzeitige Wachleute der Jackson Domizile verklagten in einem Zivilprozess ihren ehemaligen Boss namens King of Pop auf Millionen Dollar. Sie hatten die Kündigung bekommen und fühlten sich schikaniert. Das Gericht teilte ihre Gefühle nicht, aber bevor sie den Prozess verloren, mussten sie ihren Anwalt finanzieren.
In Amerika kosten Zivilklagen bei Gericht gar nicht viel und werden deshalb schnell eingereicht. Was aber in Amerika wirklich teuer ist, sind die Anwälte. Anwälte brauchen Publicity. Wer Michael Jackson verklagt, hat bis heute einen Ehrenplatz für skandalöse Anschuldigungen in den Talkshows rund um die Welt. 1994 verschaffte der Anwalt der Ex-Wachleute seinen Klienten diesen Auftritte im Gossip-TV, damit sie mit dem Honorar für ihre Fantasien seine Gebühren finanzieren konnten. Und keine 24 Stunden nach der Klageerhebung vor Gericht kündigte Dimond die Ex-Wachmänner tatsächlich mit folgenden Ansage in ihrer Sendung an:
"Sie sahen alles! Sie hörten alles! Sie wussten alles!"
$100.000 soll den Wachleuten diese TV-Performance eingebracht haben. 15 Alle Stories die sie dort verkauften, widerriefen sie vor Gericht unter Eid. Davon allerdings berichtete die Presse nicht.
Andere Ex-Wachleute und Ex-Zimmermädchen Neverlands holten sich Anregungen für ihre Tabloid-Stories von Victor Gutierrez. 16, 17 (Einem Mann, der ab 1995 seine ganz eigene Geschichte um "Jordie, the boy" mit ganz eigenen, pädophilen Fantasien garnierte und in Buchform verkaufte. 18 Mit ihrem Kindesunterhalt im Verzug ebenso wie mit der Miete, prahlten die Ex-Wächter vorneweg, durch die Klage gegen Jackson bald Millionen zu verdienen und einen Mercedes zu fahren. 19 Tatsächlich hagelte es vor einem ordentlichen Gericht Ordnungsgelder gegen die Wärter wegen Falschaussage und gegen ihren Anwalt wegen Beweisunterschlagung. Die Wachleute verloren nicht nur den Prozess, sondern hätten auch Jacksons Anwaltskosten von $1.473.117,61 zahlen müssen. Vier von den Fünfen gingen, ohne Jackson zu bezahlen, sofort Bankrott. Ein Richter soll bei Verlassen des Saales verkündet haben, er sei angewidert. 20, 21, 22
"Such false witnesses […] Damn self righteousness […]"
Jackson, 1995. 23
Der Diebstahl des Zimmermädchens, ihre Ebay-Verkäufe, Ihre unbezahlten Gerichtskostenrechnungen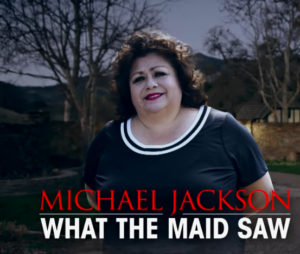 Mit ungebremster Schamlosigkeit verkaufte Ex-Zimmermädchen Adrian McManus noch 2017 obige Prozesskostenrechnung im Internetauktionshaus eBay als "wunderbare Erinnerung" an den King of Pop. Meistbietend. Noch immer nicht bezahlt. 24 Ihr letzter Auftritt in der Tabloid-Runde ist von 2019: "Was das Zimmermädchen sah". Es ist die vierte Version ihrer Story.
Jackson siegt vor Gericht gegen Ex-Angestellte
Und verliert in den Tabloids
Mitte der 1990er erhob Jackson gegen Schmarotzer wie diese irgendwann Gegenklage. Nicht in den Tabloids, sondern vor einem ordentlichen Gericht. Die sich "schikaniert" fühlenden Angestellten hatten vor Jacksons Kündigung seine Kleidung gestohlen, seine persönlichen Notizen mitgehen lassen, seine Zeichnungen, Spielzeug, Süßigkeiten. Einiges davon landete gegen Bares bei den Tabloids. Das Gericht teilte Jacksons Meinung und verurteilte die Ex-Angestellten auf Zahlung von Schadenersatz im Wert von $60.000. 25
Nicht nur im Skandal von 1993, für den Jackson seinen Namen hergeben musste, ging es nie um die Wahrheit.
"You'll do anything for money."
Jackson, MONEY, 1995. 26

Zeugen, die nie welche waren, sind alles, was der Staatsanwaltschaft in ihren Ermittlungen gegen Jackson bleibt. Aber was spielte das für eine Rolle, wenn diese Zeugen von gar nichts sich mit ihren bezahlten Fantasien in das Erbe des Michael Jackson eingegraben hatten.
Ab 1993 arbeiteten die Fantasien der Tabloid-Zeugen für Rechtsanwalt Feldmans Strategie, der Evan Chandlers Millionen Dollar Prozess zwar vor Gericht in einem Zivilverfahren eingereicht hatte, den Prozess aber in den Tabloids führte. Im "Gericht der öffentlichen Meinung".
Quellen